Barrels of used fuel are transported to the hazardous materials depot operated by the contractor Fluor at Bagram airfield, Afghanistan, in 2014. A federal judge again authorizes Fluor to prosecute following a suicide bombing in the bomb in Bagram in 2016, according to court documents. (Patrick LeBlanc / US Army)
South Carolina federal court allows group of Americans to continue legal action against contractor over 2016 suicide bombing at Bagram Airfield, Afghanistan that killed or injured nearly two dozen people .
Texas-based Fluor Corp., which the military hired to provide services such as construction and security at bases across Afghanistan, was asking for the lawsuit to be dismissed. On Thursday, a judge ruled in favor of the 13 plaintiffs, who allege that Fluor was negligent.
"Fluor's responsibility included monitoring and supervising its employees and contractors. Fluoride has totally failed in this regard, allowing this terrible tragedy, "said lawyer Tony Buzbee, whose firm is lead counsel for the plaintiffs, on Friday in a statement.
Thursday's ruling means consolidated cases can now be tried before a jury. The plaintiffs have yet to quantify their damage, Buzbee told Stars and Stripes.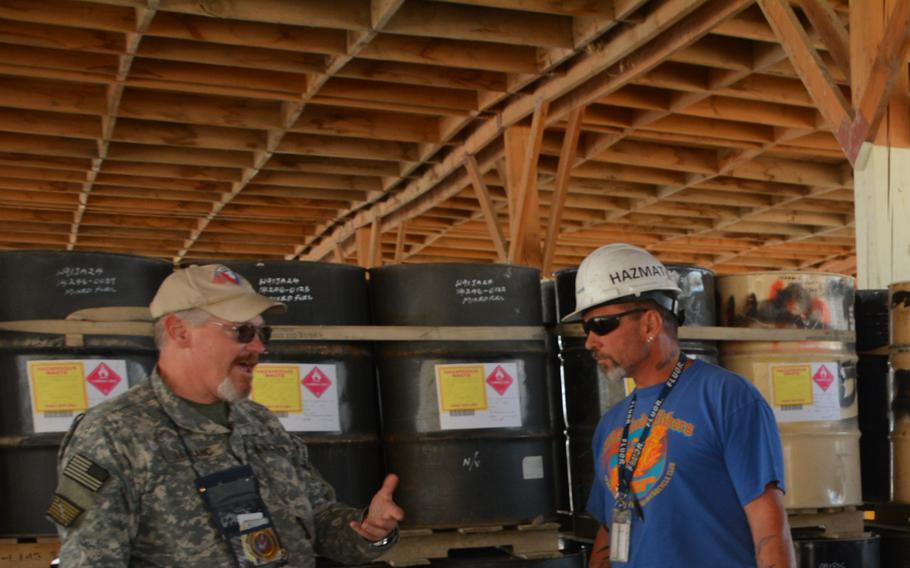 A contracting officer speaks with an employee at the hazardous materials depot operated by contractor Fluor, Bagram airfield, Afghanistan, October 14, 2014. Federal judge re-authorizes Fluor suit arising from 'a suicide bombing in Bagram in 2016 to continue, according to court documents. (Mary Barkley / US Army)
The company argued that a lawsuit could expose sensitive military information. He also argued that South Carolina is an inappropriate forum for complaints because none of the complainants are from that state.
However, on Thursday, Greenville U.S. District Court Judge Joseph Dawson III ruled that the company's contract work was administered in South Carolina, albeit remotely.
Fluor Corp. was unable to comment immediately when contacted on Monday by Stars and Stripes.
Ahmed Nayeb, an Afghan who, according to court documents, worked for the subcontractor of Fluor Alliance Project Services, Inc., blew himself up on November 12, 2016, ahead of a Veterans Day race at the airfield by Bagram.
The attack killed five people, in addition to Nayeb, and injured 17 others. Three US servicemen were among the dead.
Nayeb's shift was over and he was not supposed to be on base at the time, according to court documents.
A 2016 military investigation found that Fluor did not properly supervise Nayeb and "negligently handed him over" tools he used to make a bomb vest, even though he did not need to. of these tools for his work.